<<Previous Back to Stallions Next>>
Delavoye Heroes Phantom #10658
"Phantom"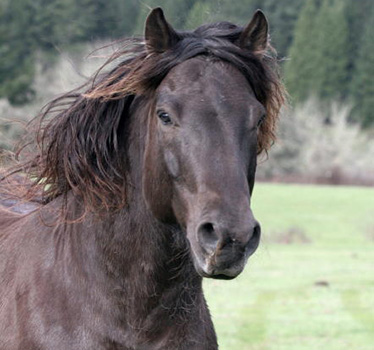 Phantom
Phantom is a Black Stallion
Born 2004 standing 14.2hh
SIRE: Bienvenue Lou Heroes #4192
DAM: Beauregard Bienvenue Jessy #8264
PROGENY: Xeek
Phantom is an old style Canadian Stallion from the Lou bloodline and is the grandson of Lou himself! The horse on Breed Standard Chart could have been drawn from Phantom...he is a very "traditional" looking Canadian Stallion. The Lou bloodline represents less than 3% of the total population of the Canadian Horses and is considered to be the purest of the remaining bloodlines. Phantom has excellent temperament, fabulous movement and outstanding conformation. We are very pleased with his first offspring, a beautiful colt named Xeek. Phantom will continue to be bred in the future.
Stallion Services and Stud Fees
Photo Gallery
Coming Soon!